Bear: The Game
A downloadable game for Windows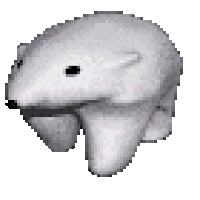 Control a bear, of the sword wielding variety to save his place from being taken over by the evil KirbBear.
Explore this 2d piece of land, while meeting new friends, and new foes.
Features include:
Many bears, each with their own personality
2 bosses
A saxophone solo (Done by MusicByPedro)
I tried to stay as true to the videos by AutisticYui as I could, by rotating and enlarging, sudden size increase and whatnot. I think I did pretty well in that regard.
Feel free to use anything from this game in a video or whatever. Let me know about it, and I'll check out whatever you made!
Sidenote: This game is obviously a joke, and it's for that reason why I'm probably not going to work on it again.
Have fun.
Install instructions
Download, unzip, and launch the bear.
Controls:
Arrow Keys to move
Z to attack/interact